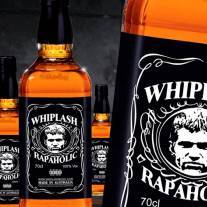 When it comes to grinding Whiplash is setting the bar high for todays on the come up rappers. Whip's newest EP is the appropriatley titled "Rap-A-Holic". That must be the only way to describe Whip's addiction for crafting music to suit his fan base. He teams up again with Mozart Jones, for the production side of things, and makes things happen a lot smoother this time around.
The project opens up with "Dying Is Easy." This track finds Whiplash in deep retrospect focusing on his life. The ups and downs, pros and cons and the harsh realities of struggling in this thing we call life. Whiplash has a nack for writing catchy hooks and this song is rewind worthy. Don't be surprised if this will be stuck in your head for the next day or so. You can see the mind state Whip is in when he spits "Living is hard, dying is easy/ just keep living and dieing will please me." There isn't a better choice to kick this EP off with then "Dying Is Easy".
The self titled, "Rapaholic", song finds Whiplash spitting over a trancy frankenstein sounding foundation while double time flowing bars like "I'm out of mind, complex, complex, complicating/ what you say is different meanings." It's almost like Whip loses his mind on this song and speaks with "different meanings". It's almost like he was possessed while bringing this raw energy. Whiplash just made a hiphop rave song. The track is weird and different, yes, but hypnotizing and wild. The mixture travels the realms of classic hiphop and bridges them with intense horrorcore / trance elements and makes Mr. Lash truly a "Rapaholic."
"Real Thing" shows Whiplash exploring his options while keeping it real on a funky instrumental. It's another classic Whiplash branded song, with one of the best hooks he layed to date. "Pride To Show" and "Blessing And Curse" are both equally respectable and also demonstrate the blue print Whip is laying out in letting his fans know what he is about.
This project is more in tune from Whip's last few projects. He seems more focused on this one and his lyrics are in key with the subject matter. One thing we would like to see from the Aussie artist is a wider range of topics, not just personal ones. Hearing Whiplash doing a song about his countries politics, the state of hip hop or even a relationship song would be interesting and would show a more evolved consciousness. "Rapaholics" recording quality and mixes are way better then before. Hearing Whip with a clear quality and a bounce to the tracks displays his message a lot better then before. This EP is a sure shot from the land down under. Show the homie some love and check out his new project here on itunes:
http://itunes.apple.com/us/album/rapaholic-ep/id506974360